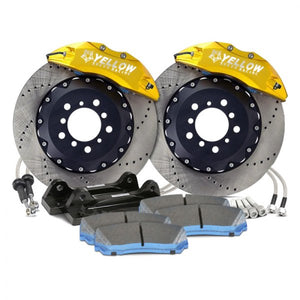 * * As there are so many options for the YellowSpeed big brake kits (pad choice, colour choice , size etc ) we offer them on a personal basis ... click the enquiry button below to be on the way to having your new big brake kit - please note -  PRICES START FROM - €1499 * *  
YELLOWSPEED's ULTRA GRAND BIG BRAKE KIT is designed for road sport and circuit use. This big brake kit features optimum braking performance, attractive look, easy installation and cost-effective price. We are proud to say that all components we use on the kit are the first grade material to ensure the product durability and strength. YELLOWSPEED's ULTRA GRAND BIG BRAKE KITS have the same powerful braking performance as world's best supercars.
CNC MACHINED STEEL CALIPER MOUNTING BRACKETS
The caliper mounting brackets are made from high grade of cast iron for durability and rigidity. Each mounting bracket is individually designed for the application.
HIGH PERFORMANCE SPORT COMPOUND BRAKE PADS
These are specially formulated brake pads for street vehicle brake upgrade presenting optimum stopping performance. In addition, they produce low dust, low rotor wear and reduce noise so they are ideal for those looking to the sporty street driving.

BRAKE CALIPERS
The caliper is made from lightweight alloy aluminum for weight reduction and optimal strength. The caliper utilizes piston dust/dirt and oil-leaking resistance seals, and is covered with anti-rust coating available in many colors listed below. The narrow shape is specifically developed for a large range of vehicles.
Whats included - 
2 x Forged billet aluminum calipers with anti-rust coating

2 x Two piece, drilled or slotted rotors with lightweight aluminum centre bells. Rigid steel centre bells are equipped for the rear rotors integrated with inner drums

4 x High Performance Sport Compound Brake Pads (Competition Compound Brake Pads are optional for additional charge)

2 x CNC machined steel caliper mounting brackets
 
2 x High quality stainless steel braided Teflon brake lines

1 x Hardware tool bag