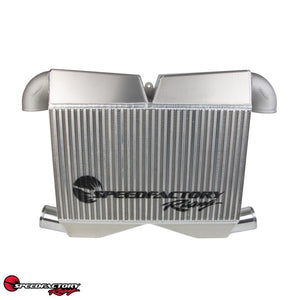 The SpeedFactory Racing Nissan R-35 GT-R Front Mount Race Intercooler is built with our high quality 22" x 14" x 4.5" thick vertical flow Air-to-Air Intercooler Core, featuring bar and plate construction with a very specific staggered fin combination engineered to achieve maximum cooling efficiency while minimizing pressure drop. This intercooler is ideal for GT-R race applications where 1,000+ HP of efficient charge air cooling is desired. Our custom engineered end tanks are carefully hand-formed in house from H-3 5052 aluminum and are fully TIG welded. 
This intercooler comes standard with 3" bead-rolled tube end inlets and 3" cast aluminum outlets. All of our intercoolers ship complete with the SpeedFactory logo stenciled on the face of the core & come with (2) M8x1.25mm aluminum mounting bungs and (1) top mounting tab already attached for easy installation. Lower mounting brackets are not provided.
FEATURES & SPECIFICATIONS:
- Nissan R-35 GT-R Compatible (2008-2018)
- 1,000+ HP Rated
- Core size is 22" x 14" x 4.5"
- Overall dimensions: 20.5" Tall x 4.5" Thick x 28" Wide (Inlet to inlet)
- Clears factory bumper cover, factory fender wells, and factory undertray.
- Unparalleled craftsmanship and race proven performance
- Intercooler Weight: 37 LBS.
**Installation requires minor trimming of the factory bumper crash beam and the factory composite air guide structure.**