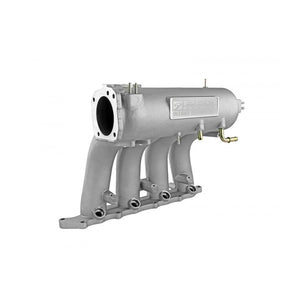 Skunk2's engineers revolutionized Honda performance some 15 years ago by creating the first-ever, high-flow, cast aluminum intake manifold for the H22A/ F20B engines.
The Skunk2 Pro Series Intake Manifold for Honda's H Series engines feature a larger plenum and long oversized runners when compared to the stock dual stage manifold, and are cast with thicker wall material, leaving room for further porting for high-horsepower applications. Instead of producing a manifold with a significantly oversized plenum and excessively short runners that would sacrifice mid-range power, the Pro Series Intake Manifold is designed for the "street enthusiast" who wants more power without sacrificing mid-range performance to get it. The results are improved airflow, an enhanced venturi effect, and both mid-range and top-end power gains.
FEATURES:
70mm Throttle Body Opening
Generiously Cast Runner Walls for Porting
Tapered Hi-Velocity Runners
Eliminates IAB Butterflies
Eliminates EGR Hi-Grade
Mounting Hardware
Fits MOST Popular Chassis Configurations - Not Just Race Cars 

Not directly compatible when used in Civic/ Integra chassis - Clearance Modifications Required - Ideal for turbocharged and naturally aspirated applications.