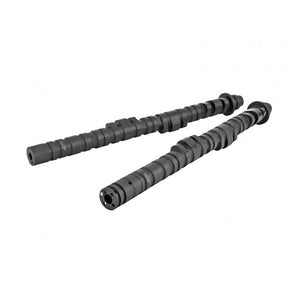 Skunk2 Racing's "Tuner Stage 1" Camshafts are designed as a performance upgrade to stock or near stock vehicles running the 3 Lobe VTEC K20A/ K20A2/ K20Z1/ K20Z3 and K24A2 engines or cylinder heads. These camshafts will outperform the stock and Skunk2 DIC (Drop-In Camshaft) camshaft from 4,500 rpm to redline with no loss in drivability. A great match for vehicles with an intake, header, and exhaust! Tuner Stage 1's require a simple valve spring and retainer upgrade due to the additional lift, duration and increased RPM range.
Our Tuner Stage 1's incorporate Skunk2 Racing's cutting-edge Fast Ramp and AMAX features, which are responsible for increasing overall performance, producing unmatched response from idle to redline. You can expect optimized mid-range and top-end horsepower/torque with peak power moved up the RPM band, producing a seamless VTEC crossover!
Fast Ramp -

 

The same technology used in Formula One racing, where seat timing is reduced, which results in additional cylinder pressure and more torque but without compromising valve-train longevity.
AMAX

 

- A Skunk2 design that simply maximizes the area under the lift curve but without compromising reliability or valve-train stability. Skunk2's profiles feature more duration than competitors' at lifts above 1mm, resulting in greater efficiency and more power.
Independent tests have shown average gains to be in the neighborhood of +18-20 horsepower with really nice gains in mid-range horsepower and torque! Tuner Stage 1 cams are an easy install but we highly recommend checking all critical clearances and degreeing for peak performance.


Required - Alpha Series Valve Springs, Alpha Titanium Retainers and Engine Management.
Camshafts Specifications
Intake - Lift: 13.5mm/ Duration 266°
Exhaust - Lift: 12.5mm/ Duration 262°
Intake Centerline - Variable
Exhaust Centerline - 107°
Valve Clearance (Intake / Exhaust) - .008" / .010"
RPM Range: 1,500 - 8,200
HP Gains: 18-20
Torque Gains: 15-18
i-VTEC Settings - Small Lobe 35° Advance/ Big Lobe 40° to 30° Advance
VTEC Crossover - 5,500 to 6,500 RPM