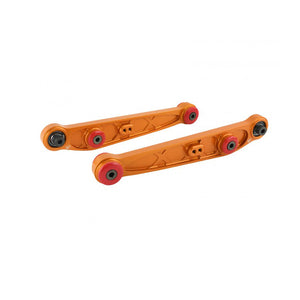 Skunk2 has done it again! While others are busy imitating our Pro Series LCA's, Skunk2 engineers have put 100's of hours of extensive R & D to revolutionize a product that was once thought to be dialed in. Skunk2 is proud to announce the release of the Alpha Series Rear Lower Control Arms for the '89-'95 Civic/ CRX and '90-'01 Integra.
The Ultra Series Lower Control Arm offers the hardcore racer and discerning enthusiast, the very best of the best. In a market full of "Me Too" Product, and recycled, annealed lower control arms, we took the Lower Control Arm back to the drawing board. We chose 6061-T6 because of its excellent strength to weight ratio and fatigue strength. With an ultimate tensile strength of over 42,000 PSI, and fatigue strength of 14,000 psi for 500 million cycles – we knew this would be perfect for the Alpha Series Lower Control Arms. The result of our re-engineered lower control arm is a 6061-T6 Forged Aluminum LCA, that is 15% lighter and 7% stronger than our previous generation of LCA's.
Accurate suspension geometry is maintained under the most aggressive driving conditions using high load steel spherical bearings on the trailing arm side and tuned durometer elastomeric bushings for the sub frame side of the LCA. Delrin bushings are utilized at the shock mounting position for their low friction and minimal deflection for unparalleled dynamic shock control. Using this specific combination of bushings allows the most comfort and control under any driving conditions.
FEATURES:
CNC Machined from Forged 6061-T6 Aluminum
40% Lighter than OEM Arms
15% Lighter than Original Skunk2 Pro Series Arms
7% Stronger than Original Skunk2 Pro Series Arms
Outboard Spherical Bearing Eliminates Bushing Twist
Tuned Polyurethane Inboard Bushing Dampens NVH
Delrin Shock Mount Bushings for Improved Shock Performance
Skunk2's Rear Lower Control Arms are both. For maximum suspension performance, Skunk2 Rear Lower Control Arms are best complemented with Skunk2 Rear Camber Kits, Lower Arm Bars, and Strut Tower Bars.