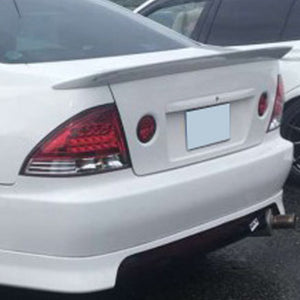 In 1998 Toyota Japan released the Altezza model and in Europe at the same time they release the IS200 under their luxury car brand Lexus. The Altezza came with a tuned Yamaha engine and was always a very popular car , the Lexus however has only started to gain cult status over the last few years do to the low cost of the car , RWD and a massive amount of aftermarket parts available for them. We have a huge range of body styling parts for these cars but our products are better than everybody else's. Why? Because we put time and effort into making our products fit extremely good , then we manufacture our products using superior materials and finally we give full fitting advice and knowledge as we have installed these products 100's of times. 
Points to note about this product - 
* The mold that this product is produced from is extremely high quality and this product fits perfectly!! 
* We manufacture this product in FRP. This is a high quality plastic reinforced fiberglass. We recommend for best results that this material is first test fitted , sanded , then primed and finally painted.