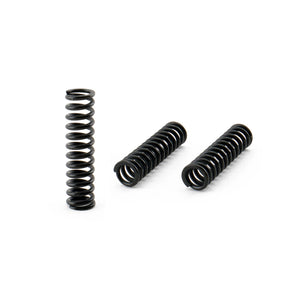 The Hybrid Racing heavy-duty transmission detent springs offer an increase in the preload and 80% stiffer spring rate over the factory parts which aids the transmission gear selector fork. Upgrading these springs will make your gear engagements a bit sharper since they replace the soft OEM ones.
Depending on the application, these springs are more than 80% stiffer than the stock Honda hardware. Please use the installation instructions as a general guide for the Honda K-Series transmission. All other Honda transmission installations should refer to the factory Honda manual.
Some Honda transmission applications will only use 2 of the 3 springs. For instance, the Honda B-Series transmission has only two external detent springs, and the other is internal. You will have to remove and separate the transmission case to change the third spring. The internal spring actuates the 5th/reverse gate.
Be sure to torque the Honda K-Series transmission detent bolts to 16 lbf-ft (22 N-m / 2.2 kgf-m). You will use all three springs.