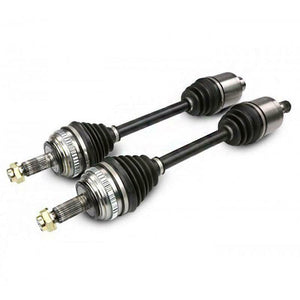 Manufactured to beyond OEM spec these drive shafts are ideally suited for naturally aspirated builds - up to 250bhp & 200ft/lbs torque. They feature a 32mm spline so can be used on all 92-00 Honda Civic and Integra apart from 98 spec JDM.

They are supplied fully assembled so are totally hassle free with brand new hub nuts. Will fit EG6, EK4 with EG subframe swap, EK9 with EG subframe swap, DC2 (UK and 96spec).
*Zero warranty for motorsport / track use 
* 6 months warranty on main shaft , cv joints and boots are classed as wear and tear items. 

* * Will not fit Civic EK 96-00 without changing the subframe and install an EG Civic or Integra DC2 subframe.