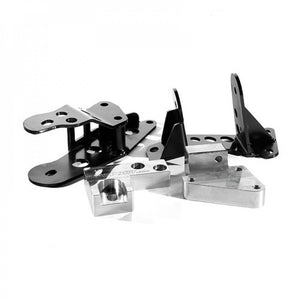 Legendary engine bracket kit from Hasport performance allowing you to install the Honda K24 engine with an EP3/DC5 gearbox into a honda Jazz 02-08 model . Some extensive work is required when fitting this engine mount kit and they should only be installed by a trained professional. If you are unsure if this is the correct kit for your car please contact us before buying.
Features:
Designed to deliver trouble-free, consistent performance
Made from high-quality materials for ultimate durability
Manufactured to meet or exceed strict quality requirements
Hasport Performance® is a leading supplier of top quality engine and transmission mounts for the automotive aftermarket. Headquartered in Phoenix, AZ, the company provides advanced mounting solutions for professional and nonprofessional drivers across the globe. Designed using sophisticated CAD/CAM software, Hasport Performance mounts securely hold and support the powertrain as well as isolate vibrations and noise. All the mounts are constructed of lightweight and rust-resistant materials to provide long-lasting performance for years to come. 
* This mount kit is a special order item and can take 10-14 days for us to get into stock *

* All special order items are non returnable no matter what the case *